Heat Pump Installation & Replacement near Rochester, NY
Add Value and Comfort to your Home.
If you're looking for heating and cooling in one ultra-efficient package, then you should consider a new heat pump installation from John Betlem Heating & Cooling, Inc. Heat pumps provide higher efficiency because they transfer hot air instead of burning fuel to heat your Rochester, NY home. When you count on John Betlem for your new heat pump installation, you'll enjoy home comfort year round, as well as a savings on your utility bills. And, you can count on top-of-the-line quality and efficiency – we install heat pumps from Carrier, featuring Greenspeed technology.
Our heat pumps are designed to fit the needs of your home – and your budget. Carrier heat pumps with Greenspeed intelligence are created by pairing adaptable-speed technology with the Infinity control's intelligence. The unique, variable-speed compressor of the unity, when managed by the Infinity control as a part of a complete Infinity system, allows it to literally adapt its output to the needs of the home. With infinite adjustments between 40 and 100 percent capacity, it gives the home only the amount of cooling or heating necessary. This allows the system to operate longer at steadier, lower capacities, which ensures incredible energy efficiency and quiet operation with tighter temperature control than standard systems.
Let John Betlem help with the new heat pump system installation in your Rochester, NY home.
It has been our priority since we started our business in 1941 to help our customers throughout the Rochester, NY area feel as comfortable in their homes as possible. That's why we specially train our talented team of technicians to expertly install your new heat pump system, so that you and your family can enjoy maximum comfort. And, we take pride in the fact that we're able to not only perform the best new heat pump system installations, but we're also able to service and repair your system as well. Count on us for the following: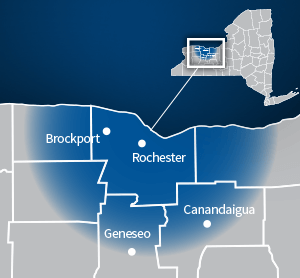 At John Betlem Heating & Cooling, we want you to know that we mean business when it comes to your satisfaction. We back everything we do with our 100% satisfaction guarantee. Compare our guarantee with the limitations, the exclusions and the fine print that other companies often use to back their work – others typically guarantee just the functionality of the equipment, not your satisfaction with the process or that the finished job meets your expectations. It's that commitment to our customers that has allowed John Betlem to grow throughout the Rochester, NY area year after year, with many more satisfied customers time after time.
Getting the heat pump services you need for your Rochester, NY home is easy – just call John Betlem Heating & Cooling. We can help you with the new heat pump system installation or replacement you need so that you and your family can experience optimal home comfort. Just give us a call at 585.271.8888 and we will be more than happy to help you with any heat pump service need you may have.
Save Money On Your Energy Bills With a New High Efficiency Heat Pump.