HVAC Service in Rochester, NY & the Surrounding Areas
When you choose to work with John Betlem Heating & Cooling for the comfort needs of your Rochester, NY home, you're working with a full-service home comfort company that strives to provide all customers with a complete listing of HVAC goods and services. We think you'll be pleasantly surprised with the difference you find at John Betlem. We take our responsibility very seriously when you place your trust in us. We pledge to always tell you up front what your cost will be to complete your job correctly. We make it a point to go over any details or limitations of the proposed system that will affect your enjoyment of the end result. You are told exactly what to expect up front when you use us for one of our many HVAC services, which include:
There's no place like home; unless, of course, your Rochester, NY home isn't as comfortable as you'd like. Too humid in the summer months, too chilly in the winter months, cold spots and high utility bills can all add up to less-than-ideal home comfort situations. If you're not as comfy in your home as you'd like to be, it's time to call a professional – John Betlem Heating & Cooling, Inc. At John Betlem, we've been in the home comfort business since we opened our doors in 1941. We're customer-focused, and our team of technicians is comprised of skilled craftsmen who treat you, your family and your home with respect.
At John Betlem Heating & Cooling, we offer complete HVAC services throughout the Rochester, NY area.
John Betlem Heating & Cooling specializes in designing, engineering and installing complete home comfort systems for owners of existing homes and buildings like yours. We take special pride in the craftsmen we train and employ, and we think you'll immediately notice the attitude and integrity they bring to your Rochester, NY area job site. Our entire company works hard to make your experience with us hassle-free and enjoyable. Should we make a mistake, we will do everything in our power to correct it to your satisfaction. From the professionalism of our comfort advisors to the dedication of our field personnel, we strive to deliver the best to our valued customers.
We back everything we do with our 100% satisfaction guarantee when you choose John Betlem Heating & Cooling, Inc. to contract your job. Compare our guarantee with the limitations, fine print and exclusions other companies tend to use to back their work – others will typically guarantee only the functionality of the equipment, not your satisfaction with the process or that the finished job meets your expectations. This is why John Betlem Heating & Cooling continues growing, with more satisfied customers year after year.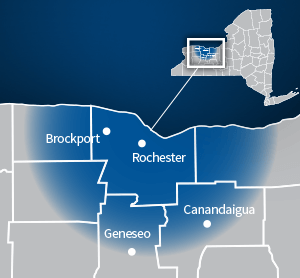 Improving the comfort of your Rochester, NY area home is as easy as making a call to John Betlem Heating & Cooling, Inc. We can help you get the HVAC service you need so that you and your family can experience the best in home comfort. Simply give us a call at 585.271.8888 and we will be more than happy to help you with any HVAC service need you may have.

Some of the Areas We Provide HVAC Services:
Brighton, NY
Brockport, NY
Chili, NY
Churchville, NY
Fairport, NY
Greece, NY
Hamlin, NY
Henrietta, NY
Hilton, NY
Honeoye Falls, NY
Irondequoit, NY
Penfield, NY
Pittsford, NY
Rochester, NY
Spencerport, NY
Victor, NY
Webster, NY