Air Conditioning Services near Rochester, NY
Summers in the Rochester, NY area can be hot and humid, and that means that the people living and working there need effective air conditioning. When the temperatures outside are on the rise, people want to be able to turn on the air conditioner and get comfortable. If you've been thinking about installing air conditioning in your home, you may have a lot of questions. John Betlem Heating & Cooling can help. We provide reliable, professional air conditioning services throughout the Rochester, NY area, and we can assist you with your needs as well.
No matter what air conditioning service you need – installation, repair or maintenance – you can count on John Betlem Heating & Cooling for all your home and business air conditioning needs. We'll take the time to explain to you what exact services we will be providing for you up front – we don't believe in surprising our customers with unexpected costs. Then, we provide you with top-level service and information, as well as the very best air conditioning systems available. What's more, we service what we sell and work with you to make sure you're happy with your air conditioning system now and for years to come.
Trust John Betlem with all your AC needs in the Rochester, NY area.
John Betlem Heating & Cooling is a full service air conditioning company. We work hard to provide all customers with a complete listing of air conditioning services and products. We take our responsibility very seriously when you place your trust in us. We pledge to always tell you upfront what your cost will be to complete your job correctly. We go over all details of your air conditioning project with you, so you're completely satisfied with the end result. Our complete range of air conditioning services includes: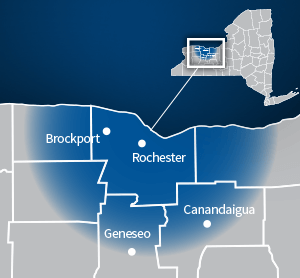 Enjoying better air conditioning in your Rochester, NY area home is as easy as making a call to John Betlem Heating & Cooling. We can help you get the air conditioning service you need so that you and your family can experience the best in home comfort. Simply give us a call at 585.271.8888 and we will be more than happy to help you.