Heat Pump Repair in Rochester, NY
Is your heat pump not working as well as it did in the past, or worse yet, has it completely stopped working altogether? If you're having difficulties with your heat pump, then it's time to call John Betlem Heating & Cooling, Inc. We'll promptly send out one of our skilled technicians to your Rochester, NY home, and they'll provide a professional diagnosis of your current heat pump's state, as well as expert heat pump repairs for any issues that your heat pump system may be experiencing.
At John Betlem Heating & Cooling, we're pleased to offer professional repair services for any make and model of heat pump system you own. That means, even if you didn't purchase the heat pump system in your Rochester, NY home from us, we'll still be able to help you with your repair needs. That's because we make sure we train our technicians to troubleshoot any type of heat pump, and then provide the necessary repairs to get the heat pump up and running, both effectively and efficiently.
John Betlem is pleased to offer heat pump repairs and more throughout the Rochester, NY area.
When it comes to repairs, you want to work with someone you can trust. You can count on your John Betlem technician to be honest with you. We repair your heat pump system with quality parts, so that you and your family can enjoy the comfort you deserve. Customer service is our top priority, and has been since opening our doors in 1941. When you work with us for your heat pump needs, you'll quickly discover that we not only provide the best heat pump repair, but we also offer other heat pump products and services for your convenience, including: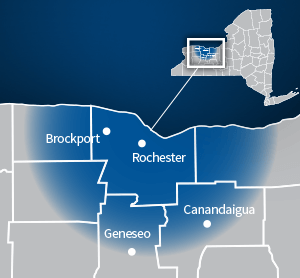 At John Betlem Heating & Cooling, we want you to know that we mean business when it comes to your satisfaction. We back everything we do with our 100% satisfaction guarantee. Compare our guarantee with the limitations, the exclusions and the fine print that other companies often use to back their work – others typically guarantee just the functionality of the equipment, not your satisfaction with the process or that the finished job meets your expectations. It's that commitment to our customers that has allowed John Betlem to grow throughout the Rochester, NY area year after year, with many more satisfied customers time after time.
Getting the heat pump services you need for your Rochester, NY home is easy – just call John Betlem Heating & Cooling. We can help you with the heat pump repair you need so that you and your family can experience optimal home comfort. Just give us a call at 585.271.8888 and we will be more than happy to help you with any heat pump service need you may have.